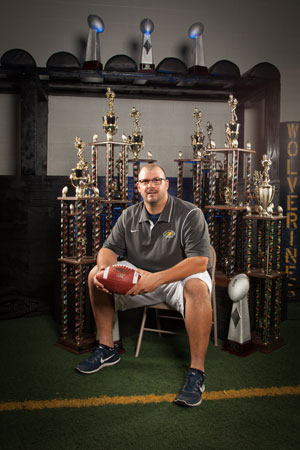 Jim Tuso - Director
What started out with an idea to help develop youth football players in the off-season has evolved into helping so many athletes across the Kansas City Metro Area by DEVELOPING LEADERS THROUGH PHYSICAL PHYSICAL FITNESS.
Today, the classes are so much more than football classes but for both boys and girls all over the KC Metro and help athletes in any sport.
In 2002, Jim Tuso had the idea to give kids the opportunity to see what football was like before making a commitment for a season. Deciding to play football is a huge financial commitment and a huge time commitment. . Most parents preach to their kids, "Once you start something you have to finish it". This is a great philosophy; however, some kids who have never played football before can be overwhelmed by the experience, especially, when you take into account that some leagues hold tryouts which can be humiliating for youngsters, if they get turned away. With these ideas in mind, Tuso started the "Jim Tuso Youth Football Camp". The camp also helped parents gain confidence by allowing them to see how their child competed against others their size and age.
During his first year, the camp had close to 100 attendees. In 2007, the camp received a facelift and was moved to its new home at William Jewell College and became the Northland Youth Football Camp. The camp has averaged over 200 participants since 2007. Over 300 kids attended the 4 day camp in 2012, making it one of the more successful camps in the Kansas City Area, if not one of the largest.
In 2005, instead of limiting athletes to just attending a football camp in the summer and seeing the need to allow athletes to train and prepare for the upcoming football season, Tuso started speed and agility classes. Due to the lack of having his own facility, the class was ran out of various locations in Liberty Missouri such as a health club, dance studio, and crossfit gym. In 2014, Tuso acquired the property at 1204 Swift in North Kansas City which is now home to the Northland Training Facility and the location of the speed and agility classes Tuso created back in 2005 which 11 years later are still providing an opportunity for kids to train and prepare for their upcoming sports seasons.
---
Rodney Haney - Lead Instructor
Rodney Haney is a lead instructor at the Northland Training Facility and runs the Speed and Agility Classes held at the Northland Training Facility. Aside from being an instructor at the Northland Training Facility, Haney is going on his fourth year as a volunteer youth football coach for the Missouri Wolverines where he will be the 2nd Grade Head Football Coach in 2016.
Haney also carries the role of Vice-President for the Missouri Wolverines Youth Organization Inc., a position he has held since 2014. Haney has been a member of the Missouri Wolverines Youth Organization since 2008. All 6 of Haney's sons have participited or coached for the Missouri Wolverines including his two youngest sons who are active attendees at the speed and agility classes.
---
---